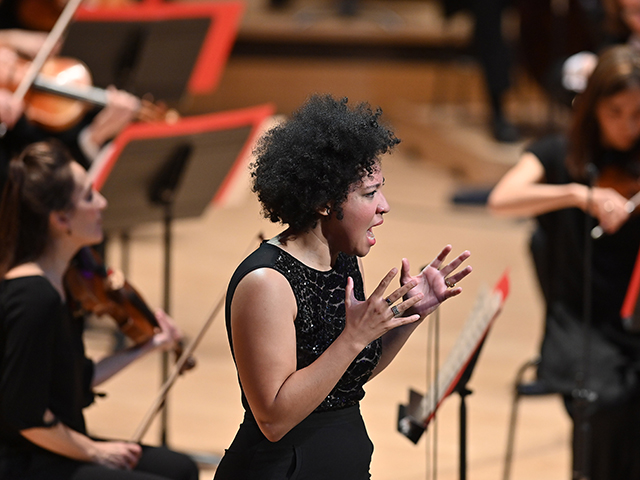 Dvorak's New World Symphony
We explores the music of the Harlem Renaissance with compelling American soprano Julia Bullock. Then Dvořák's ever-popular 'New World' symphony brings our series Let Freedom Ring to a close.
Philharmonia
Conductor(s):
Jordan de Souza
Performer(s):
Julia Bullock – soprano
Programme
STILL Symphony No. 1, 'Afro-American'
GERSHWIN Somebody from Somewhere
BONDS The Negro Speaks of Rivers
DVOŘÁK Symphony No. 9, 'From the New World'
It's a fitting finale for this series exploring American music. Inspired by the spirituals and folk music Dvořák heard while he was working in New York in the 1890s, it may well be the most popular symphony composed in America.
But for the most popular symphony composed by an American, we must look to William Grant Still, a prolific and trailblazing Black composer and a key figure in the Harlem Renaissance of the 1920s and 30s. His First Symphony is an audience favourite in the US, but not often programmed by British orchestras. Its four short movements, 'Longings', 'Sorrows', 'Humor', and 'Aspirations', are threaded through with the sounds of the Blues, ragtime and jazz, and it culminates in a triumphant hymn of hope.
Julia Bullock is one of the Philharmonia's Featured Artists this season. Known for her intense, authentic performances and commanding stage presence, she is also an eloquent advocate for equity and inclusion in the arts.
She sings two settings by Margaret Bonds of poems by Langston Hughes – both composer and writer were leading lights of the Harlem Renaissance. Bonds discovered Hughes' poetry while at university and was inspired to continue her studies in the face of terrible racism, and later she and Hughes became lifelong friends. Between the Bonds songs are three Gershwin classics, including the poignant lullaby from Porgy and Bess, 'Summertime'.
Royal Festival Hall
Southbank Centre, Belvedere Road, London SE1 8XX
Things to do before/after
Tickets cannot be exchanged, transferred or refunded
All Student Pulse ticket holders will be asked to present valid student identification at the venue.
Student Pulse tickets are sold out when the "Buy Now" button above is not displayed.
Please check our partner's website as other tickets may still be available.