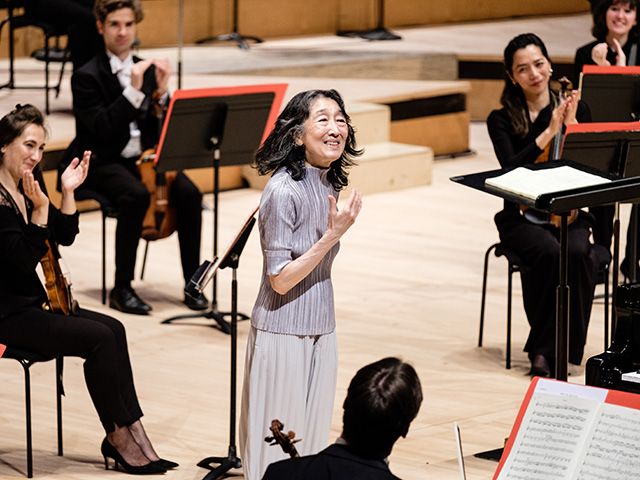 Mitsuko Uchida plays Beethoven
Revered pianist Dame Mitsuko Uchida is the soloist in Beethoven's joyous Second Piano Concerto, and Esa-Pekka Salonen returns to London for the first time since stepping down as the Philharmonia's Principal Conductor.
Philharmonia
Conductor(s):
Esa-Pekka Salonen
Performer(s):
Mitsuko Uchida – piano
Programme
BEETHOVEN Overture, Leonore No. 2
BEETHOVEN Piano Concerto No. 2
SIBELIUS Lemminkäinen Legends 
Uchida is known as a peerless interpreter of Beethoven. Her 2021 performance with the Philharmonia and Esa-Pekka Salonen, marking the return of live orchestral concerts after the Covid lockdowns, garnered five-star reviews and was acclaimed as 'playful yet profound, creating the kind of communal moments of close listening we've all been missing.' (The Guardian). Tonight she turns to the concerto Beethoven composed to make his public debut in Vienna – crystal clear and full of youthful grace.
Lemminkäinen is the colourful hero of the Kalevala, an epic of Finnish folklore. He makes an ideal subject for Sibelius, a leading light in the movement for Finnish independence. Sibelius chose four contrasting legends for this suite – our hero seduces 1000 brides before their menfolk chase him off; an unearthly cor anglais solo depicts the swan who guards Tuonela, the island of the dead; Lemminkäinen is killed by his nemesis but restored to life by his own mother; then the final movement traces his triumphant return from his adventures.
The starter of this musical feast is Beethoven's overture for his only opera. It encapsulates the opera's journey from prison and despair to hope and freedom, in music full of drama and emotion.
Royal Festival Hall
Southbank Centre, Belvedere Road, London SE1 8XX
Things to do before/after
Tickets cannot be exchanged, transferred or refunded
All Student Pulse ticket holders will be asked to present valid student identification at the venue.
Student Pulse tickets are sold out when the "Buy Now" button above is not displayed.
Please check our partner's website as other tickets may still be available.