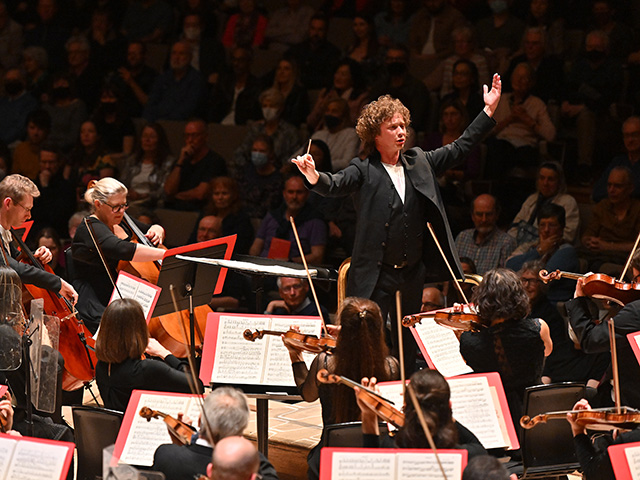 Santtu conducts Sleeping Beauty
Fairy godmothers good and evil, a lovely princess doomed to die on her sixteenth birthday, a handsome prince who will wake her with a kiss – Sleeping Beauty has all the ingredients of a classic fairytale.
Philharmonia
Conductor(s):
Santtu-Matias Rouvali
Performer(s):
Gil Shaham – violin
Programme
DVOŘÁK Slavonic Dances Op. 46 Nos. 1 – 3 
TCHAIKOVSKY The Sleeping Beauty (excerpts)
The story has been told and re-told since the fourteenth century, but in 1890 Tchaikovsky gave it one of its most popular incarnations, as a ballet. The Philharmonia's Principal Conductor Santtu-Matias Rouvali, renowned for his affinity with ballet music, conducts some of the most well-loved passages, including the curse of the evil fairy Carabosse, the Garland Waltz and Rose Adage at Princess Aurora's sixteenth birthday party, the hunting party where we meet the Prince, and the grand 'happily ever after' finale.
Gil Shaham, a violinist admired not only for his flawless technique but for his warm stage presence, joins the Orchestra in Dvořák's Violin Concerto. A violinist himself, Dvořák poured all his skill and a characteristic dash of Czech soul into this masterpiece of the violin repertoire. A rich and colourful first movement leads to a gloriously lyrical Adagio, and an exuberant finale full of dancing, syncopated melodies.
To whet our appetites for the violin concerto, Santtu has chosen his favourites from among Dvořák's lively and memorable Slavonic Dances.
Royal Festival Hall
Southbank Centre, Belvedere Road, London SE1 8XX
Things to do before/after
Tickets cannot be exchanged, transferred or refunded
All Student Pulse ticket holders will be asked to present valid student identification at the venue.
Student Pulse tickets are sold out when the "Buy Now" button above is not displayed.
Please check our partner's website as other tickets may still be available.