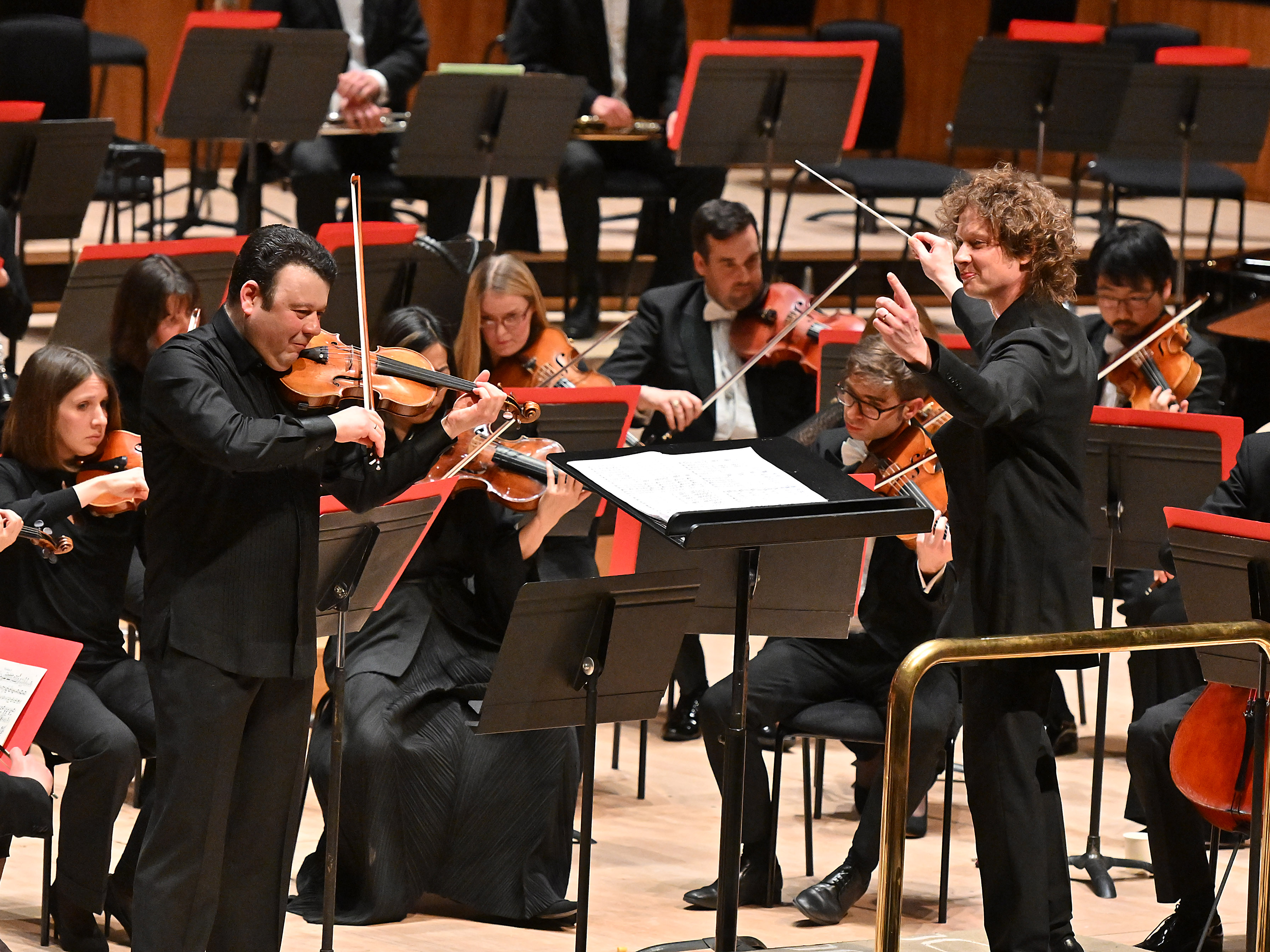 Santtu conducts Strauss & Shostakovich
Santtu-Matias Rouvali conducts two of Strauss's tone poems, Death and Transfiguration and Till Eulenspiegel's Merry Pranks alongside Sibelius and Shostakovich's Violin Concerto No. 2 featuring soloist Vadim Gluzman.
Philharmonia
Conductor(s):
Santtu-Matias Rouvali
Performer(s):
Vadim Gluzman – violin
Programme
SHOSTAKOVICH Violin Concerto No. 2
STRAUSS Death and Transfiguration
STRAUSS Till Eulenspiegel's Merry Pranks
The Philharmonia has a long association with composer Richard Strauss – he conducted the Orchestra back in 1947. Both the players and their Principal Conductor Santtu have a real affinity for his music.
Santtu has chosen two of Strauss's tone poems for this evening's concert, and they could hardly be more different in their subject matter. Death and Transfiguration describes the final moments of a man's life, as he recalls his past and his soul reaches for heavenly bliss. It's astonishing that Strauss wrote such moving, deeply felt music when he was just 25. Sixty years later, on his deathbed, he is said to have told his daughter-in-law "It's a funny thing, Alice, dying is just as I composed it."
Till Eulenspiegel is a different matter altogether. The pranks and misadventures of the folk hero Till are told in music full of cheeky humour and irrepressible energy. It's a workout for the whole orchestra, and the horn section in particular.
Vadim Gluzman won the hearts of the Philharmonia audience when he stepped in at a day's notice to perform Brahms' Violin Concerto in 2022. Tonight, he performs Shostakovich's Second Violin Concerto. Shostakovich wrote the piece for his friend David Oistrakh, and wove in twisted fragments of folk melodies and street vendors' cries from Oistrakh's native Odesa.
Royal Festival Hall
Southbank Centre, Belvedere Road, London SE1 8XX
Things to do before/after
Tickets cannot be exchanged, transferred or refunded
All Student Pulse ticket holders will be asked to present valid student identification at the venue.
Student Pulse tickets are sold out when the "Buy Now" button above is not displayed.
Please check our partner's website as other tickets may still be available.