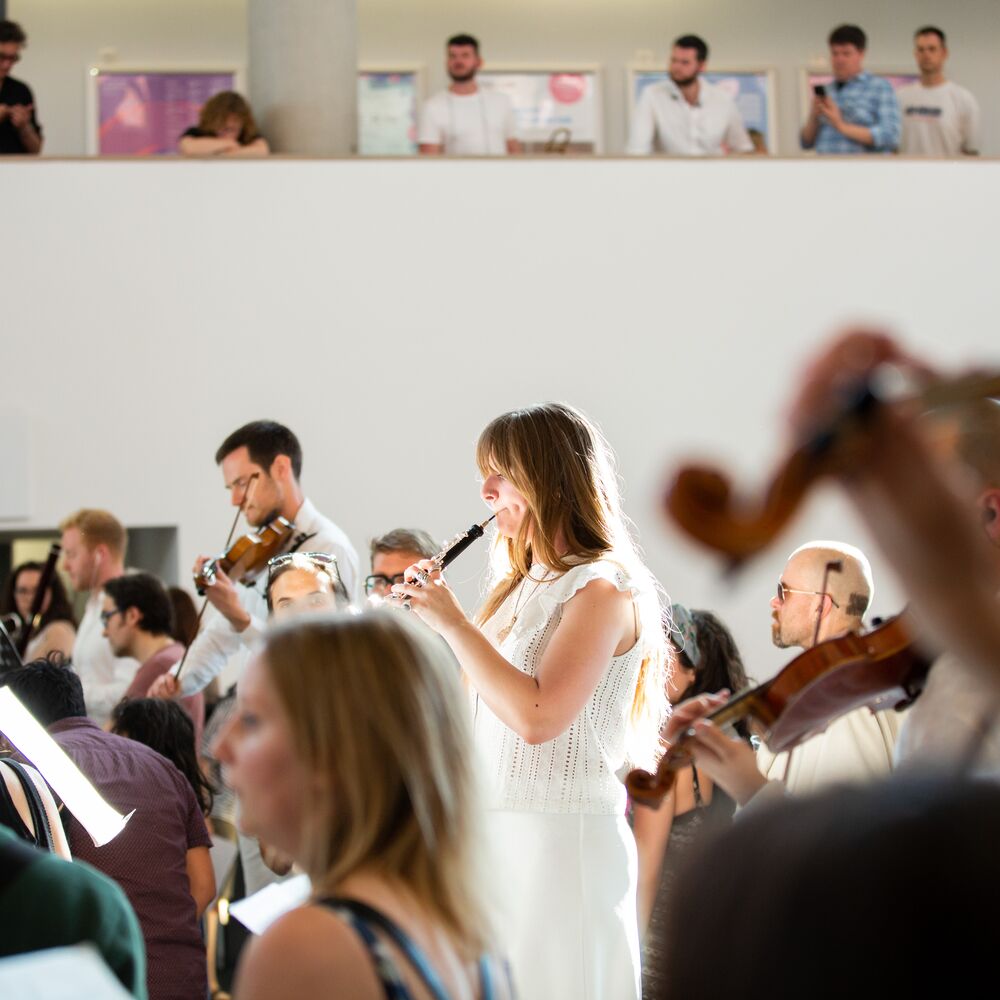 Paraorchestra: Drone Refractions (9pm)
Charles Hazlewood leads a captivating, immersive exploration of drone music through the works of minimalist greats Pauline Oliveros and John Cage.
Southbank Centre
Performer(s):
Paraorchestra
Charles Hazlewood conductor
Victoria Oruwari soprano
Programme
Cage: 

Seventy-Four arr. Rylan Gleave

Oliveros: 

The Last Time (Ultima Vez)
Conductor Charles Hazlewood and Paraorchestra's ensemble of disabled and non-disabled musicians invite you to climb inside the inner workings of an orchestra.
Paraorchestra's virtuoso players are arrayed throughout the Royal Festival Hall foyers and the audience is invited to wander among them as they play, creating their own unique sonic mix as they move through the space.
This performance is an odyssey through drone – magisterial works of minimalism refracted into new forms by Paraorchestra.
The repertoire includes a never-before-heard realisation of John Cage's Seventy Four by Rylan Gleave, and a new configuration of Pauline Oliveros' mesmeric The Last Time/Ultima Vez by Charlotte Harding featuring the sublime vocals of Victoria Oruwari.
Part-sound bath, part-concert, part-installation, Drone Refractions envelops and engulfs audience members in a deep sonic realm, with the opportunity to experience these transportive sounds and instruments up close as never before.
The Clore Ballroom
Level 2, Royal Festival Hall, Southbank Centre, Belvedere Road, London, SE1 8XX
Things to do before/after
Tickets cannot be exchanged, transferred or refunded
All Student Pulse ticket holders will be asked to present valid student identification at the venue.
Student Pulse tickets are sold out when the "Buy Now" button above is not displayed.
Please check our partner's website as other tickets may still be available.