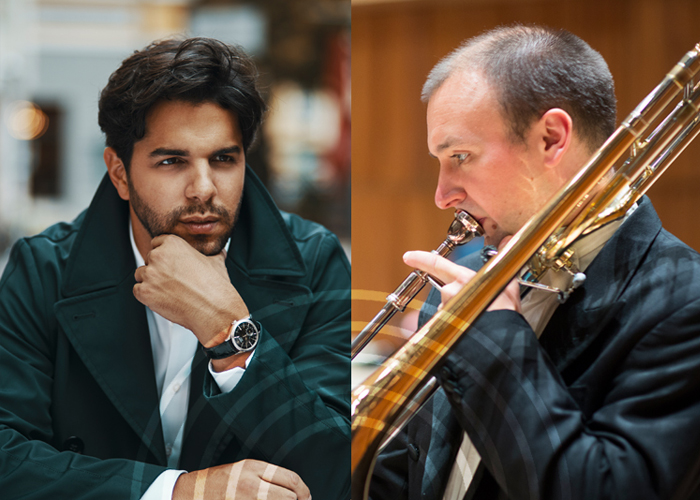 Dvořák's 'New World' Symphony
Much-loved classics and tuneful discoveries from Domingo Hindoyan and Principal Trombone Matt Gee. 
Royal Philharmonic Orchestra
Conductor(s):
Domingo Hindoyan Conductor
Performer(s):
Matthew Gee Trombone
Royal Philharmonic Orchestra
Programme
Suk Scherzo Fantastique
Henri Tomasi Trombone Concerto
Dvořák Symphony No.9, 'From the 
New World'
Don't mention the Hovis ad (if you can even remember it), because – with its great tunes, grand emotions and sweeping drama – Dvořák's Symphony No.9, 'From the New World' was a favourite with audiences the world over long before TV even existed. Dvořák was inspired by America, but he never lost his Czech accent and Domingo Hindoyan, a conductor who is making waves, will bring out all the nostalgia (and joy) in the composer's much-loved melodies. First, though, take a whirl through old Bohemia in the lovely Scherzo Fantastique by Dvořák's son-in-law Suk, and take a walk on the wild side with Tomasi's swinging Trombone Concerto – a larger-than-life showcase for one of the RPO's very own stars, trombonist Matt Gee.  
Cadogan Hall
5 Sloane Terrace, London SW1X 9DQ, UK
Things to do before/after
Tickets cannot be exchanged, transferred or refunded
All Student Pulse ticket holders will be asked to present valid student identification at the venue.
Student Pulse tickets are sold out when the "Buy Now" button above is not displayed.
Please check our partner's website as other tickets may still be available.